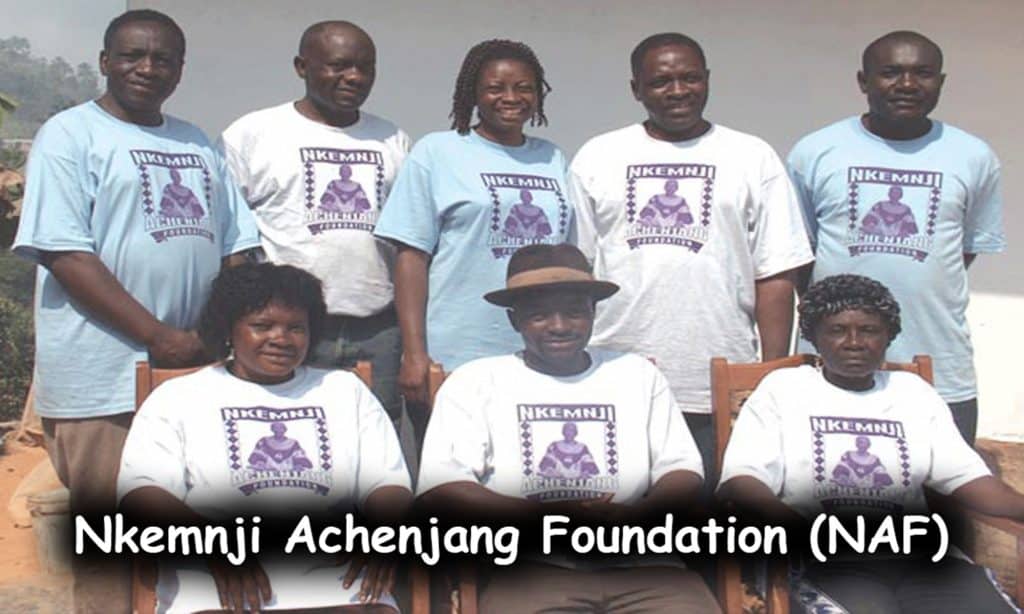 Nkemnji Achenjang Foundation (NAF) is a 501 (c)(3) nonprofit organization that functions as a vital safety net for less fortunate individuals and families. The foundation was created in honor of the late Mbe Nkemnji Achenjang. Throughout his life, he was a loving, kind, and generous philanthropist who helped those in need.
Pa Nkemnji Achenjang was born in 1919 into the family of Mbe Nkemnji Fonjia and O'Belanka Nkemnji in Fontem, Cameroon, West Africa. Pa Nkemnji married Agnes Efuet in 1945 and migrated to work for the Cameroon Development Corporation, CDC. His father, Mbe Nkemnji Fonjia died August 18th, 1970. Pa Nkemnji Achenjang succeeded his father in December 1971 and became Mbe Nkemnji Achenjang. Mbe Nkemnji Achenjang showed others how to live, love, and give. With his simple, cheerful and generous nature, he provided hope to those he came across. On January 30th, 2005, Mbe Nkemnji Achenjang was called home to be with the Lord, and although he is no longer with us, his legacy of generosity and charitable works continues through NAF.
Mbe Nkemnji Achenjang submitted his difficulties, perplexities, and disappointments to the Lord and was never embittered nor surprised at the challenges that came to test him. He remained a symbol of peace and hospitality beyond measure; all smiles and humor. Mbe Nkemnji Achenjang was a rare gem, and his load on this earth never broke him down because of the way he carried it. We are inspired by his examples to rise above challenges.
" Your father in his old age, do not grieve him during his life. Even if his mind should fail, show him sympathy, do not despise him in your health and strength; for kindness to a father shall not be forgotten but will serve as reparation for your sins… Ecclesiasticus (Sirach) 3:1-7, 12-14. "
NAF's vision is to remove obstacles that poverty, preventable diseases, and socio-cultural issues place in the path of disadvantaged and vulnerable individuals and families.
Nkemnji Achenjang Foundation
We all have limitations, blind spots, fears, pains, and brokenness. Mbe Nkemnji Achenjang carried the Spirit of Christ in his heart and reached out to those who could be on the margins or judged by society.
To carry on the legacy of compassion and generosity, his loved ones, sympathizers, and friends began the charitable organization Nkemnji Achenjang Foundation (NAF). In this light, we seek your prayers, involvement, and support as NAF continues to make a difference by investing in human dignity and offering hope and pennies of faith. With assistance from our networks, we help recipients by empowering them to be self-sufficient.
Once we identify basic needs through first-hand evaluations and experience, we address the needs with appropriate, practical, convenient, and lasting solutions.
 NAF is a charity committed to integrity, stewardship, and compassion that lifts spirits, brings hope and a brighter future to the needy. NAF advances the spirit of donation and seeding for every recipient's benefit, using 100% of every donation and gift.
NAF alleviates societal inequities by helping destitute individuals and families achieve and maintain equality. NAF does this through social programs, charitable donations, partnerships with like-minded organizations, and more. Thanks to the committed NAF team, partners, and recipients, NAF is moving steadily towards what it needs and wants to be.